Get Your Free SEO Video Analysis Today!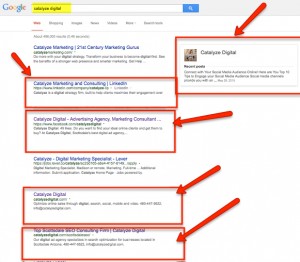 How difficult is it for you to acquire new customers online?
Do you know what ways your new customers find you?
Does your business consistently show up on the first page of Google organic search results?
Do you want to divert traffic away from your competitor's website to yours?
Are you getting the level of leads, sales results and recognition that you want and deserve for your business?
Does dominating your field online feel like something really hard to do?
For answers to these and other business problems, simply fill out this 5-minute, Discovery Form and you will be eligible for a FREE "Increase Your Online Results" consultation and SEO video analysis. You will receive:
1) A FREE SEO video analysis and report card of your online business performance
2) Three tips you can implement today to start improving how your customers find you online
3) The #1 mistake people make when trying to reach customers to get sales
Helping you transform your online results is our passion and our mission. We've worked with marquee clients from all over the world and I'm confident we can help you command the results you want for your business.
Your ideal clients are waiting for you! Let's get started so they can find you!